Tailgate in our game truck
Tailgating Parties in the Inland Empire
If you're looking for an alternative to doing the same old thing for the big game, consider the New Age Gaming luxury video game trailer and entertainment center! Whether you want to have a tailgate party and watch the big game in a public location or you're looking to host an event at your home, our game trailer is perfect! Our expert crew can park the trailer just about anywhere that it fits, so if you want to have a party in your driveway or maybe you are throwing a Super Bowl block party we've got you covered!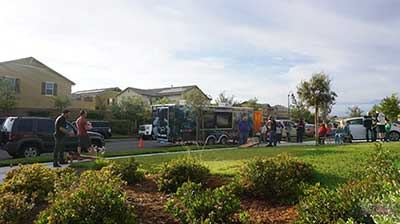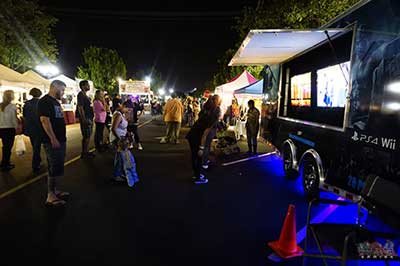 How does a tailgate party work with a game truck?
The process is very simple! Just like with our Birthday Parties and Fundraising events New Age Gaming is the easiest and best way to throw a party anywhere in the Inland Empire!
Our Tailgate Party is awesome for ANY sport! NFL Football, MLB Baseball, NBA Basketball, NHL Hockey, UFC Fights, MMA Events, College Football, College Baseball, College Basketball etc!
Step 1: Book your party with New Age Gaming TODAY! Our dates book up fast, so be sure not to procrastinate.
Step 2: On the day of your party we show up with our top of the line limousine styled video game theater whether it is at your home or the parking lot of the big game we will be there!
Step 3: Enjoy the best tailgating experience there is!
Our game trailer is equipped with stadium-style luxury seating, we have 7 high definition TV's a high definition satellite feed, our surround sound will make you feel like you are right in the game and the climate controlled interior will keep you comfortable! We also feature 2 large outdoor TV's so you can line up a group of your friends and family with plenty of room to spread out and enjoy the best tailgate party they have ever been too!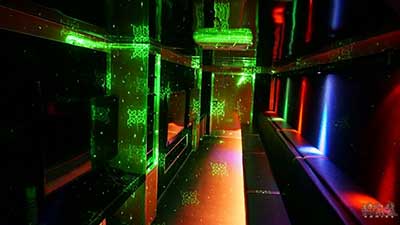 How is a Game Truck tailgate party better?
Think about the average tailgate party, you head over to a friends house, you enjoy some snacks and drinks and you cram into their living room, or maybe you meet up at the stadium and cook some barbecue while standing in a hot parking lot. With the New Age Gaming Game Truck Tailgate party you can still have snacks and drinks, you can still barbecue, but we step it up, you get plenty of room to spread out and relax in our luxurious game trailer, between games you can take advantage of our on board gaming consoles and our extensive game library.
One of the biggest benefits to having the New Age Gaming Game Truck host your tailgate party is that the kids can be entertained while the adults watch the big game! Set up video games inside with our luxury interior that is set up to keep kids engaged with laser light shows, surround sound, and of course their favorite video games! Or the adults can take the interior while the kids play Just Dance in the driveway on our outdoor TVs.
The Best Way to Watch Sports! Imagine the Superbowl in Style.
zWith New Age Gaming at your next party you never have to worry about the typical stress of throwing a party, we take care of the hard part, all you have to do is book your party with us! For parents concerned about game ratings for their children, do not worry, you can select age appropriate games for your event! Our client policy ensures that you never have to compromise! If you have any questions or concerns about throwing a tailgate party with New Age Gaming, contact us and we will work out all of the details to throw the perfect event for you!
CHECK OUR CURRENT SPECIALS
Our Tailgate Party Packages Include:
Game Coach(es) to assist the event.
High Definition Satellite TV service.
Four 55″ HDTV's and One 60″ Smart HDTV.
Two 55″ Smart HDTV's on the outside of the Game Truck.
Surround sound for each TV.
Interior stadium seating and Laser light show.
Xbox One, PS4, Playstation VR, Nintendo Switch and Oculus Go.
Our Entire Game Library.
Climate Controlled Theater & 10×10 EZ-UP.
*PPV events are available, you must cover the PPV fees.
School And Non-Profit Parties
Host a fundraiser with Us!
A great time for a great cause!

Custom tailored to your event specifications.

We can come to your School, Church, or any other location that our game truck can fit within our service area.

Special tournaments types for your event!

Your guests will have a great time and they'll be giving back at the same time!

Contact us Today for more Fundraiser Options and information.
Office Parties and Corporate Events
Upgrade the company picnic.
Custom Tailored options for your event.

Upgrade the typical company picnic to an exciting Game Truck and Laser Tag party.

We come to you at your office, park, or any other location in our service area.

Contact New Age Gaming today for custom party options.
Tailgating Parties!
Watch the game in comfort.
Ultra comfortable Game Truck with Limousine style interior.

Indoor and Outdoor TV's.

Climate controlled interior with top of the line HDTV's and Surround Sound.

Perfect for the Super Bowl, World Series, MMA, Boxing, and PPV Events.

Contact us for more information on our Game Truck tailgating events!
COntact Us
New Age Gaming
Redlands,
California 92374
(951) 786-8269
Serving The Inland Empire