Life Size Hungry Hippos!
You've played the board game, now experience Hungry Hungry Hippos in a fun-packed life-size version! 
Add this fun new activity to your next party! We offer options including standalone hungry hippos and combo packages that allow you to bundle our Game Trucks, Laser Tag, and Hungry Hippos!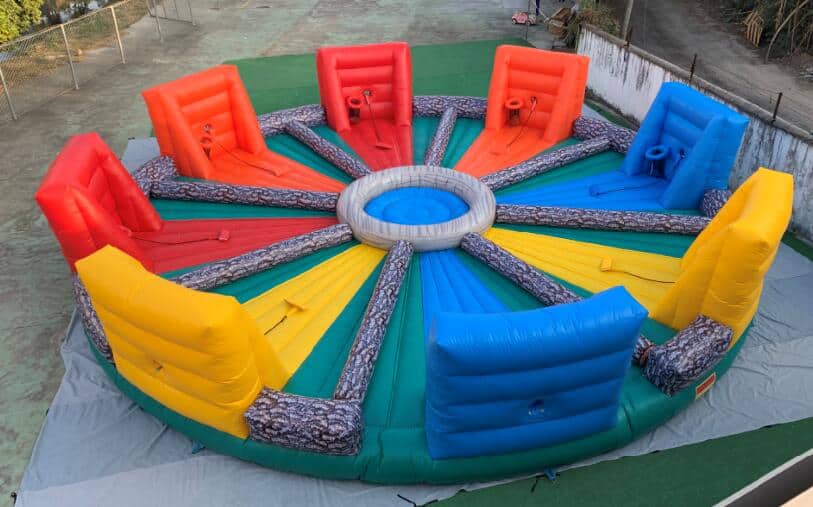 A Fun Time For Kids and Adults!
The Hungry Hippo Chow Down game is will keep everyone at your party entertained and laughing for hours!
Get in the game or sit back and watch as 8 contestants attempt to collect as many balls as possible in this high speed and action packed game.
How Do I Play?
The rules of the game are simple. Up to 8 players are attached to the 40ft game board using a bungee tether, when the game starts each player makes a dash to the center of the board with the goal of grabbing as many balls as possible, each ball is 1 point.
Sounds too easy? Well this game can be a serious work out. As players attempt to dash for the balls in the center of the board the bungee tether will pull them back, lose your grip and you go down! Luckily our high quality inflatable game board makes falling fun, no scrapes or bruises, when a player falls they bounce back to the starting point ready to go for some more points.
Hungry Hippo Party Packages
We offer a variety of packages for you to choose from! Only interested in our 8-person Hungry Hippo Chow Down inflateable? We offer a package for you! If you're looking to have a large party with many attractions take a look at some of our combo packages, options include game trucks, laser tag, or both!
We come to you, we handle set up, and the take down of the equpment. Venue must provide access to power for inflateable equipment.
Please note, the minimum age to participate in the Hungry Hippo Chow Down is 5 years.
3 Hour Hungry Hippos
3 Hours of Exciting Competition!
8 Players at a time!

We bring the party to you, we handle set up, and take down of the equipment.

A Great experience for both children (age 5+) and Adults!

Add 30 minutes for $75 or 60 minutes for $125
COntact Us
New Age Gaming
Redlands,
California 92374
(951) 786-8269
Serving The Inland Empire