Xperience Mobile Laser Tag
COMING SOON TO NEW AGE GAMING:
The Most Advanced Laser Tag now Comes to YOU!
We have all played laser tag before, the awesome adrenaline rush of being on the battle field in an all out assault on the opposing team, rushing across the battle field, hiding behind obstacles and rushing the other teams bunker. But laser tag is flawed, until now. No longer do you need to be in close range of your target, no more clunky vests, no more running around the same old battle field in a dark room. Introducing the most advanced laser tag you will ever play, The New Age Gaming Mobile Laser Tag Xperience, from the same great family owned and operated business that brought you the best Game Truck in the Inland Empire.
 Our Mobile Laser Tag parties feature the industry leading Battle Rifle Pro. These cutting edge laser rifles are unlike anything that you have ever used before, the lightweight yet realistic Battle Rifle Pro features realistic features like a reloading button, adjustable magazine sizes, adjustable modes like Sniper Rifle, Machine Gun, SBR and much more! Rather than wearing an oversized vest these rifles use small headbands to count shots, your rifle also displays your health, ammunition left and many other customizable features.
Best of all, we come to you! New Age Gaming makes throwing a birthday party, corporate event, non-profit event or backyard barbecue easy! When you click the Book Now button below you will be able to select the date, time and specifics of your party then one of the members of our team will reach out to you and confirm the details, then you sit back and relax until it's time for battle! The New Age Gaming Mobile Laser Tag Xperience will be a party you never forget!
The Battle Rifle Pro comes with 8 default weapon types. The Battle Rifle, Burst Rifle, SMG, Heavy Machine Gun, Shot Gun, Sniper, Battle Cannon, and Assault Laser
Switch your weapon on the fly! Want to carry both a sniper rifle and an assault laser? Well you can! Our advanced Laser Tag system allows you to switch weapons on the fly!
Our Laser Tag rifles are 22.5″ long and only 2.4lbs making them friendly for all ages and realistic enough to feel like you're really in the battle.  They feature vibrations that match your shots, and each time you get shot, a high-quality loud speaker plays realistic sound effects while you are firing rounds!
Our Battle Rifles come with thousands of customizations built in, when you are ready to battle have our Battle Coordinators set your game up exactly how you want it!
The New Age Gaming battle system has a 600+ Foot range! That means you can sit back and snipe your friends while they wonder where you are hiding!
More than just team vs. team! You can choose from battle types like Free For All, Team Battles, VIP Battles, or Infection mode! One player starts on the green team and "infects" each of their victims as they hit them! Last one to be infected wins!
Mobile Laser Tag Pricing!
Why choose when you can have both! Our exciting Game Truck matched with the BEST Mobile laser tag!
Mobile Laser Tag is perfect for
Since our Mobile Laser Tag is fun and safe for all ages it makes the perfect Birthday Party idea for your kids!
Department vs. Department Battle! Get your team out of the office and having fun with Mobile Laser Tag!
Mobile Laser tag is perfect for your next fundraiser or charity event! Create a fun and interactive experience for your guests.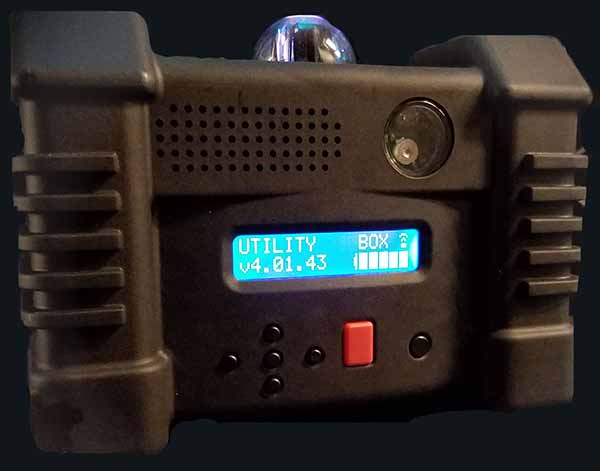 Respawn Station
With the Utility box you can quickly respawn just like in a video game! When you lose your life in battle, return to your teams utility box and in no time you will be back in the game, battling next to your team!
Medic Box
The medic box is your lifeline in the middle of a battle! When you health is running low sneak to the nearest Utility Box and refill your health!
Weapons Box
With the weapons box, you can quickly and easily change weapons in the middle of a battle, if you started with a machine gun, but you would like to switch to sniping, you can do that, on the fly in the middle of a battle.
Sensor Box
This is great for special characters and game types! If you want to play Capture The Flag, the utility box is perfect for the game.
Domination
The all out Melee! Teams of players running throughout the battlefield shooting each other and scoring as many points for their team as possible.
King Of The Hill
Players defend a specific area in the battlefield while the other team trys to storm the hill and take control! The team in control longest is the winner!
Capture The Flag
Retrieve flags from the enemies box and return back to your box to score points!
Revolutionary Utility Boxes
Bunkers for tactical positioning
Ready To Add Mobile Laser Tag To Your Game Truck Party?
New Age Gaming brings Laser Tag directly to you! Just like our Epic Game Truck, this service is the hassle-free way to throw the best party you've ever had. Slots are booking up fast, dont wait!
Book Today
Do You Have Any Questions?
We understand that planning a party can be stressful, but, don't worry! New Age Gaming takes care of all of the hard work. If you don't see your question below check out our FAQ Page for more information.
How can I throw a Lasertag party?
Our booking process is very simple! Click the Book Now Button in the lower right corner of the screen to start the booking process!
Once you have booked your Lasertag party one of our party coordinators will contact you to confirm the details of your party, after that you can leave the rest up to us!
Are Lasertag Parties Safe?
Yes! Our laser tag parties are very safe! The Battle Rifle Pro emits a low power laser light that allows it to "shoot" maximum distance while keeping your kids and family members perfectly safe!
Are there age limits?
That is up to the Party planner! If you are comfortable with your little ones playing Lasertag then this game is fun for all ages!
The Battle Rifle Pro is lightweight and easy to use, yet very realistic. They also feature kids mode! We can turn the realistic sound effects off for a more enjoyable experience for little ones!
Be sure that your child is ready for the most advanced Lasertag experience before booking!
If you have any questions or concerns, reach out to us!
Where can I have a lasertag party?
Our laser tag parties come to you, much like our cutting edge Game Truck service you can throw a laser tag party wherever is convenient for you!
*Some restrictions may apply, please call before booking.
Do the laser tag rifles work during the day?
Yes! The Battle Rifle Pro is made to work day or night, no longer do you have to be in a dark room to experience laser tag!
Can I book the Game Truck and Laser Tag parties together?
Yes! If you would like to book both of the New Age Gaming party services give us a call!
Corona, California
Riverside, California
Perris, California
Redlands, California
Hemet, California
Beaumont, California
Norco, California
Chino, California
Eastvale, California
Covina, California
San Dimas, California
La Verne, California
San Bernadino, California
Rialto, California
Yucaipa, California
Moreno Valley, California
Colton, California
Upland, California
Montclair, California
Fontana, California
Rancho Cucamonga, California
Loma Linda, California
Highgrove, California
Mira Loma, California
Jurupa Valley, California