The Premier Game Truck in Yucaipa Ca
New Age Gaming - Game Truck Yucaipa
The New Age Gaming Mobile Game Truck Comes Right To You In Yucaipa California.
Experience the Ultimate Game Truck Yucaipa has to offer!
Are you looking to host the ultimate party? New Age Gaming is the ultimate game truck rental in Yucaipa and the Inland Empire. We provide a no stress all fun experience for you, your family and friends, it's simple, just book your next party with us, we will show up, set up the truck and host the best party you have ever thrown, once the party is over we handle the cleanup too.
Unlike many other game truck rentals in Yucaipa, we offer a different experience, we are a family owned company, not a franchise which means we can offer the best prices and the most fun for you and your guests. We can custom tailor your party to your exact needs, and we can go just about anywhere, all we need is a mostly flat place to park the game truck and your guests, then the party can start.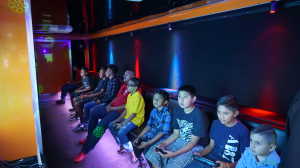 We have the best video game truck in Yucaipa:
We have Four 55″ HDTV's and One Action center 60″ Smart HDTV.
Two 55″ Smart HDTV's on the outside so you can have a dance party, watch the big game or just have a relaxed environment to hang out with friends and family.
Each TV has surround sound.
The interior of our game truck features stadium style seating and a laser light show
Xbox Ones, PS4's, PS4VR, Wii's and Wii U's.
FORZA 6 PlaySeat (RaceCar Simulator)
Climate control
And we provide a complimentary GROUP photo. *Must be requested ahead of time.
Pricing for the BEST video game truck Yucaipa has to offer.
Additional 30 Minutes: $49
Additional 60 Minutes: $99
Additional 30 Minutes: $49
Additional 60 Minutes: $99
Friday OR Sunday Special!


Restrictions May Apply. Plus any travel surcharge if applicable. See our Service Area for more information, or Contact Us for more details.
ALL CHARACTERS ARE LICENSED AND TRADEMARKED BY THEIR RESPECTIVE OWNERS. NEW AGE GAMING AND IT'S AFFILIATES DO NOT MAKE ANY CLAIMS OF OWNERSHIP TO THOSE TRADEMARK CHARACTERS OR PRODUCTS. THIS WEBSITE AND THE SERVICE CONTAINS COPYRIGHT MATERIALS, TRADEMARKS, AND OTHER PROPRIETARY INFORMATION, INCLUDING, BUT NOT LIMITED TO SOFTWARE, PHOTOS, VIDEO, GRAPHICS, MUSIC, SOUND, AND THE ENTIRE CONTENTS OF THE SERVICE IS PROTECTED BY COPYRIGHT AS A COLLECTIVE WORK UNDER THE UNITED STATES COPYRIGHT LAWS