The Premier Game Truck in Riverside Ca
New Age Gaming - Game Truck Riverside
The New Age Game Truck travels to Riverside California for all occasions and parties! If you are in Riverside California, or you would like to throw your next party in Riverside California, be sure to contact New Age Gaming to make your party great!
The New Age Gaming Mobile Game Truck Comes Right To You In Riverside California.
Experience the Ultimate Game Truck Riverside has to offer!
Are you looking to host the ultimate birthday party but you're bored with the same old bounce house or pool party ideas?  Are you growing tired of the same old fashioned birthday games?  Do you dread the thought of planning and arranging ANOTHER themed birthday party?  Choose New Age Gaming Game Truck and let them do all the work!  New Age Gaming is the ultimate game truck rental in Riverside and the Inland Empire. We provide a no-stress, all-fun experience for you, your family and friends.  It's simple; just book your next party with us, we will show up, set up the truck, and host the best party you have ever thrown.  Once the party is over, we handle the cleanup too.  Our amazing video game truck is the perfect no-mess, no-stress birthday party experience that will make you the coolest parent on the planet.
Unlike many other game truck rentals in Riverside, we offer a truly different experience.  What sets us apart is that we are a family owned company, not a franchise.  This means we can offer the best prices and the most fun for you and your guests.  We will custom tailor your party to your exact needs, and we can go just about anywhere.  When we pull up, your family and friends will be impressed with the design and look of our gametruck.  Our mobile game theater is completely self-contained; all we need is a 55' place to pull up and we can get the party hopping in no time.  With our quiet onboard generator, we don't even need to plug in to get the fun started!
Ultimate Game Truck Riverside has the newest video game consoles, with the newest top rated games, comfortable stadium seating, high tech video and sound, with an amazing laser light show.  Our friendly Game Coaches will keep the fun rolling, ensuring all guests and party-goers get in on the gaming action.  With over 5 different gaming consoles and a ton of hot video game titles, there is no end to the fun.  All of this is contained in a climate controlled environment, which means you can cool off while the fun heats up!  With the best equipment and competitive pricing, look to New Age Gaming Mobile Video Game Truck to satisfy your birthday party needs.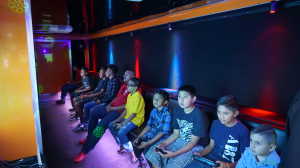 We have the best video game truck in Riverside:
Inside the limousine-like truck, we have Four 55″ HDTVs and One Action center 60″ Smart HDTV for tons of gaming action.  Or we can hook up the high definition satellite feed and your friends and family can watch the big game!
Our two external 55″ Smart HDTVs are the perfect place for a group dance party, watching your favorite team during the big game, or just a nice, relaxed environment to hang out with friends and family.
Each High Definition TV is equipped with state of the art surround sound, so you'll really feel like you're immersed in the game.
The interior of our game truck features stadium style seating which ensures that every seat is a great seat.  Spectators can comfortably sit back and enjoy the awesome laser light show.
We have Xbox Ones, PS4's, PS4VR, Wii's and Wii U consoles to play the best games and newest releases.
Our gametruck even has the FORZA 6 PlaySeat (RaceCar Simulator), so you can challenge your friends to some high speed racing action and see who will take the checkered flag.
The climate controlled environment will keep you cool on those hot summer days and warm you up on cool winter nights.
And we will even provide a complimentary GROUP photo. *Must be requested ahead of time.
Additional 30 Minutes: $49
Additional 60 Minutes: $99
Additional 30 Minutes: $49
Additional 60 Minutes: $99
Friday OR Sunday Special!


Break away from the typical boring birthday and throw a party your kids will remember and enjoy. New Age Gaming can come right to your house or other location for hours of stress-free, unique fun. Your family and friends will be impressed with the innovative design of our luxurious, state-of-the-art video game theater. It will be a family event that the kids will remember for years. 
Our one-of-a-kind gametruck can support 28 gamers at a time, not including our external game stations.  To keep all of the kids entertained in the New Age Gaming video game truck, Game Coaches will make sure they are entertained and keep the party going for everyone!  Our trained and friendly Game Coaches will keep it fun for all, ensuring all guests are instructed and inspired.  Our goal is to have a fun and inclusive gaming environment, making sure everyone has a good time.  New Age Gaming mobile video game truck is also wheelchair accessible.
Worried about video game ratings?  Don't be!  We understand the importance of providing appropriate games for children of all ages.  When you book your party, you will select the appropriate game ratings for your guests and we adjust the game library accordingly.  Check out our gaming selection for more details.
We take care of all of the work.  From setup to clean up, we facilitate the gaming and party experience for maximum enjoyment.  Our gametruck is equipped to entertain both young and old.  Whether it is grown-ups twisting and shouting to Just Dance on the outside TVs, or the younger kids fighting Creepers while playing Minecraft inside, we have everything to make your birthday party a memorable one.  Book a Game Truck Birthday Party to create family memories that will last a lifetime.
ALL CHARACTERS ARE LICENSED AND TRADEMARKED BY THEIR RESPECTIVE OWNERS. NEW AGE GAMING AND IT'S AFFILIATES DO NOT MAKE ANY CLAIMS OF OWNERSHIP TO THOSE TRADEMARK CHARACTERS OR PRODUCTS. THIS WEBSITE AND THE SERVICE CONTAINS COPYRIGHT MATERIALS, TRADEMARKS, AND OTHER PROPRIETARY INFORMATION, INCLUDING, BUT NOT LIMITED TO SOFTWARE, PHOTOS, VIDEO, GRAPHICS, MUSIC, SOUND, AND THE ENTIRE CONTENTS OF THE SERVICE IS PROTECTED BY COPYRIGHT AS A COLLECTIVE WORK UNDER THE UNITED STATES COPYRIGHT LAWS